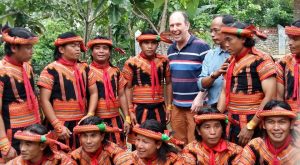 Tony Van Der Eecken – BOZAR
Concert organiser since 1978.
Toured Toumani Diabaté, Timbila ta Venasi, Ekonda from RDC, Cuarteto Patria and many more in the nineties.
Works for the Centre for Fine Arts BOZAR in Brussels since 1999.
Selection of artists presented: Asha Bhosle, Kazem El Sahar, Houmayoun Shadjarian, Goran Bregovic, Sezen Aksu, Buika, Mariza, Shahram Nazeri, YoYOMa's Silk road project, Asif Ali Khan, Zakir Hussain, Marcel Khalifé, Eva Yerbabuena, Anoushka Shankar, IbrahimnMaalouf, Kudsi Erguner, Hariprasad Chaurasia, Taksim Trio, Yulduz Usmanova, Rocio Molina, Toumani Diabate, Taraf de Haidoux, Anouar Brahem, Remember Shakti, Savina Yannatou, Faiz Ali Faiz, Souad Massi, Werrason, Papa Wemba, Lotfi Bouchnak,  Fergana Kazimov, Huun Huur Tu, Fanfara Ciocarlia, Abeer Nehme, Hossain Alizadeh, Sheikh Hamed Dawood Ensemble, Ismail Cosar, The Klezmatics
Organiser of Turkey-, Arab-, India-, Balkan-, flamenco-, Sufi- festivals in Brussels
Specialised in African and Asian music.